Looking for fun events to share with the grandkids?  Be sure to check out these Easter egg hunts with great photo opportunities going on in April in the Marietta area.
Easter Egg Hunts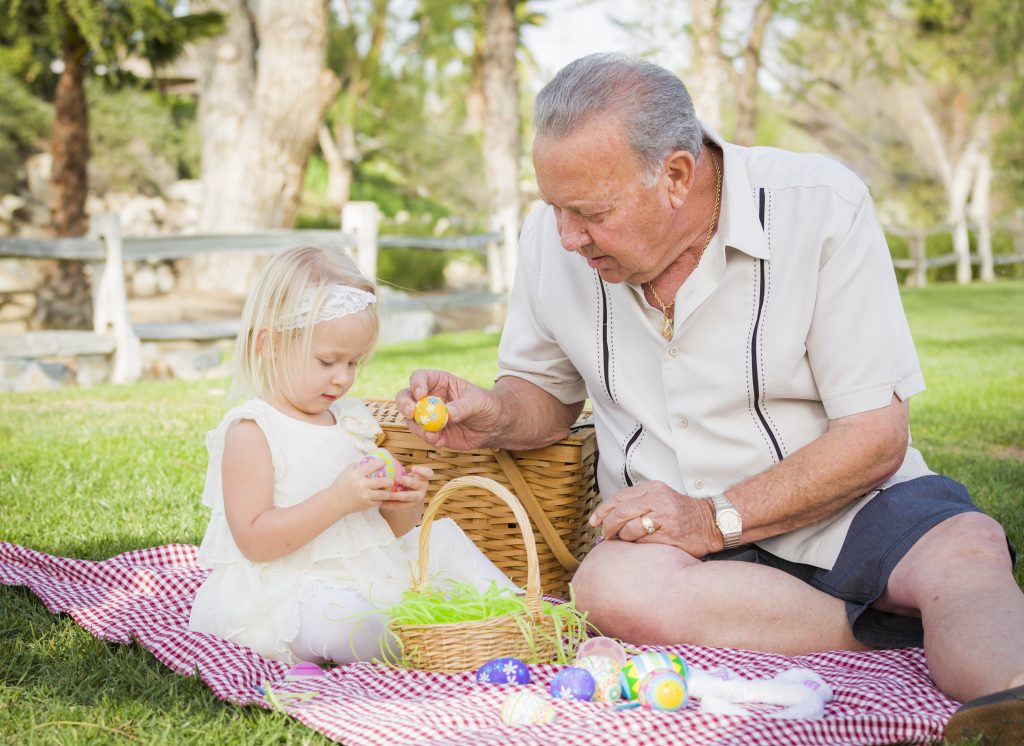 The 2019 Marietta Easter Egg Hunt known as the "Easter Egg Scramble" takes place at Franklin Gateway Sports Complex and begins at 6:30 pm on Friday, April 12, 2019. The Easter Egg Scramble is sponsored by the Marietta Parks and Recreation Department and features plenty of great candy and fun prizes for all. The hunt is divided into groups based on age, and after the hunt you can visit with the Easter Bunny for great photo opportunities.  Be sure to bring an egg basket and a flashlight.
The Cobb County Easter Egg Hunt takes place on Saturday, April 13, 2019. The Eggstravaganza takes place at Al Bishop Softball Complex in Marietta. There will also be children's art activities, live entertainment, inflatables, a hula hoop contest, a tug-of-war contest, a musical chairs contest, and more. Please bring your own baskets for the hunt. Special needs participants are included in all activities.
Taste of Marietta
Taste of Marietta, one of the largest and tastiest events in Georgia, returns to the Historic Marietta Square on Sunday, April 28 from 11am-7pm. With an impressive variety of restaurants – some new to the event, along with past favorites – this year's festival is sure to be better than ever. Nearly doubling in size over the past 10 years, Taste of Marietta has consistently been named a top festival in Cobb County.
Now in its special 25th year, Taste of Marietta brings together over 80 Cobb County restaurants showcasing their best dishes and festival-goers will not be disappointed in the variety of offerings. Admission to the event is free and "tastes" – ranging from Italian to seafood, steak to BBQ, and all the sweets imaginable – are available for $1 to $5. The food truck lineup, always a crowd favorite, returns with over 10 different trucks.
Homes NOW Under Construction
When choosing a new home it is important to start early so that you can choose your design options such as flooring and lighting, any upgrades you might desire and lock in your chosen site. East Haven in the East Cobb area has just announced that their new homes are at sheetrock stage.
There is still time to make some personal design choices but ACT FAST, the homes are going up now! Summer is just around the corner and now is the time to put your new home at East Haven under contract for a late spring or summer move-in date!
The model home is well under way and is expected to be completed in May 2019. Two homes are currently under construction featuring three floors and elevator access.
Lock & Leave
Enjoy the greatest benefit in living in an Active Adult community, the ability to lock your home up and leave for a weekend or a month without worry.  Choose your home from one of the 28 luxury townhomes located in East Cobb for those 55 and better.  While you are at home, enjoy great amenities like a social gathering area, pavilion with pool and built-in grill.
Aging in Place Made Easy – Have an Elevator
One of the best reasons to install a residential elevator is that it greatly improves the accessibility to the upper levels of your home. This is particularly beneficial if there are older family members living in the home who have mobility problems. An elevator can eliminate the risk of falling down stairs for family members and guests who might otherwise have a hard time maneuvering a multi-level home.
Roswell – Historic Marietta – Major Interstates
In a great location, East Haven is everywhere you want to be. Just off of Johnson Ferry and Bishop Lake Road, you are a couple of miles to Roswell, nine miles to Marietta and just four miles to Sandy Springs with close proximity to Roswell Road.  The Avenue at East Cobb is minutes away as is the Merchants Walk Shopping Center. There are numerous places to shop and dine plus easy access to I-75, I-285, I-575, GA 400 and Hwy 120.  Easy access to the very best of Atlanta.
Luxury Townhomes From $695,900
Live Inspired
To the ones learning, traveling, teaching, playing and dancing with this adventure called life. Here's to fresh starts, new everything, and a home that won't hold you back.
Contact East Haven : Sales Center at 4241 Bishop Lake Road,Marietta, GA 30062 or call Deborah Cook at 404-238-7990.